Cloud-Based ERP System for the Manufacturing Industry
In layman's terms, manufacturing is the production of goods through the use of labour, machines, tools, and various methods of processing. It transforms raw materials into finished goods on a large scale. In Singapore, manufacturing accounts for 21 per cent (around S$106 billion) of Singapore's total gross domestic product (GDP), and it plans to grow the manufacturing sector by 50 per cent over the next 10 years. COVID-19 has also accelerated the shift towards Industry 4.0, which is a new phase in the Industrial Revolution characterised by automation and real-time data exchange in manufacturing technologies. It creates a connected ecosystem for manufacturing, integrating computing, networking, and physical processes.
Smart Solution for Industry 4.0
Yonyou smart manufacturing solution helps manufacturing enterprises run their manufacturing operations efficiently, from sales orders to work order processing, routing and scheduling, order fulfilment and product costing.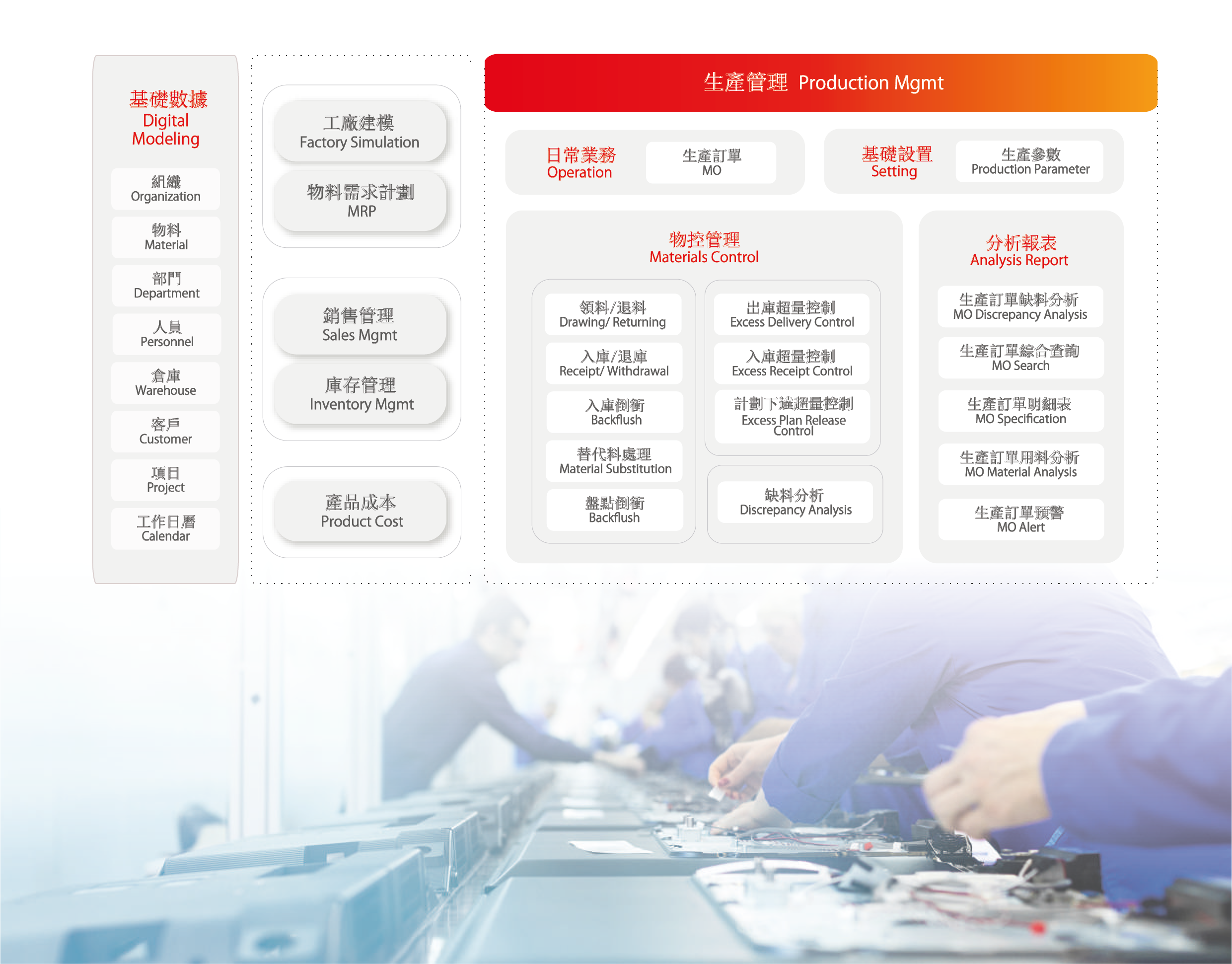 Overview of the smart manufacturing solution
---
Improved Visibility into Manufacturing Processes
Production
Planning

- MPS/MRP Planning
- BOM and routing
- Kitting analysis
- Rescheduling proposal
- Multi-factory scheduling

Progress Management

- Real-time reporting
- Real-time comparison between planned and actual progress
- Milestone analysis
- Set up of key deadlines

Site
Management

- Quality control (QC)
- Onsite variation & VO management
- Corrective actions suggestion
- Defect reporting
- Safety checklist
---
Features of Our Manufacturing ERP System
Productivity Planning
Optimise production planning with our manufacturing ERP system. Our advanced features, including MPS/MRP planning, BOM and routing management, kitting analysis, rescheduling proposals, and multi-factory scheduling, enable you to optimise processes. Accurately forecast demand, identify bottlenecks, and ensure the right inventory and production capacity to meet customer needs and drive profitability.
Progress Management
Optimise progress management with our ERP system. Gain real-time insights into production status, compare planned versus actual progress, and set key deadlines for better control over your manufacturing processes. Our comprehensive production monitoring features also allow you to identify bottlenecks, take corrective actions, and track production orders, inventory, work orders, and production costs, enhancing transparency, accountability, and operational efficiency as a result.
Site Management
Address the challenges of managing complex production processes and resources across multiple sites with our cloud-based manufacturing ERP system. Effectively manage resources, including labour, materials, and equipment, across multiple sites with features such as quality control (QC), onsite variation and VO management, corrective action suggestions, defect reporting, and safety checklists. 
Why Choose Yonyou for Your Manufacturing ERP System?
We at Yonyou are the preferred partner for manufacturers seeking to optimise their operations and drive growth. With our comprehensive solutions, exceptional support, and advanced technology, we provide the necessary tools you need to succeed.
Our state-of-the-art software is specifically designed for the manufacturing industry, covering the entire manufacturing process from sales order processing to work order management, routing and scheduling, order fulfilment, and product costing. By implementing our smart manufacturing solution, you can efficiently run your operations and streamline your processes for improved efficiency.
However, our commitment doesn't stop at offering a full suite of ERP business software solutions. We also offer a wide range of professional services to support you at every step. This means that our experienced consultants can provide business consulting, implementation, training, and ongoing support tailored to meet your unique needs. We understand that each business is different, and we work closely with you to ensure a successful ERP implementation.
Customer support and ongoing training are also at the forefront of our priorities. Our dedicated support team is always available to address your questions and resolve any issues promptly. In addition, comprehensive training programmes are offered to equip your team with the necessary skills to effectively utilise our manufacturing ERP system.
Moreover, to ensure the optimal performance of your ERP system, we offer robust maintenance and support services. Our skilled product management team and Research & Development departments also work diligently to safeguard the system, handle upgrades and releases, and minimise risks. Our goal is to reduce your total cost of ownership and ensure the smooth operation of your ERP system.
Furthermore, data security and compliance are paramount to us. We employ stringent security measures and adhere to industry standards and regulations to protect your valuable manufacturing data. Rest assured, your data is safe and secure within our ERP system.
How Yonyou fits into your business activities
Machinery/Shipbuilding
Machinery solution focuses on agile manufacturing and precise planning. It supports various modes such as made-to-order, assemble-by-order, and mass-customised manufacturing.
Life Sciences
Life sciences solution focuses on GMP quality management, in-depth sales, marketing management, and precise cost management to help pharmaceutical companies achieve agile internal management and collaborative external supply chain control through aligning upstream suppliers, downstream resellers, and end-users.
Precise Engineering/Electronics
Electronics solution focuses on collaboration and management along with the operational processes, from procurement to cost control. It achieves real-time information sharing among stakeholders in the supply chain, eliminating demand fluctuation, reducing cost and enhancing accuracy in order fulfilment.
Chemical
Chemical solution fulfils the fundamental requirements in the industry that includes bulk procurement, quality-based price calculation, barcode management, manufacturing data monitor, asset management, quality management, and cost management. It aims to enhance a company's ability to adapt to fast-changing markets and maintain a high safety level in manufacturing.
Food Processing
Food processing solution covers the management of food safety, supply chain, manufacturing cost, distribution, budgeting and collaboration. It is suitable for managing the food processing industry as it supports flexible planning and precise cost control, enabling enterprises to grow with a solid foundation.