YonBIP | Business Innovation Platform 
Making business innovation accessible for all
We understand that businesses are focused on growing their core business, and being agile helps to accommodate changing requirements. In the current day and age, it is necessary to keep up with IT trends and innovation, to create a smarter future for the business, and its consumers.
With that in mind, the yonyou Business Innovation Platform is an on-demand enterprise solution that promotes industrial interconnectivity for collaboration and sharing. It also aims to create effective management, stronger competitive advantage, increased sustainability, and make digitalization and business innovation within reach for all. Together we can create the synergy needed for success. 
Leading transformation from ERP to BIP
Traditional ERP is good at replicating industry best practices from one to many. BIP serves an enterprise's ever-changing needs and supports business models driven by data intelligence.
A powerful technology platform
yonyou provides an open platform architecture that enables building, integrating, extending, and managing all enterprise applications. With agility and flexibility, yonyou enables enterprises to quickly react, adapt and grow to meet the changing market landscape.
Cloud-native architecture
YonBIP adopts the cloud-native architecture that takes advantage of a ready-to-use infrastructure. It reduces the complexity of the application development and deployment process.
How does YonBIP fit into your business?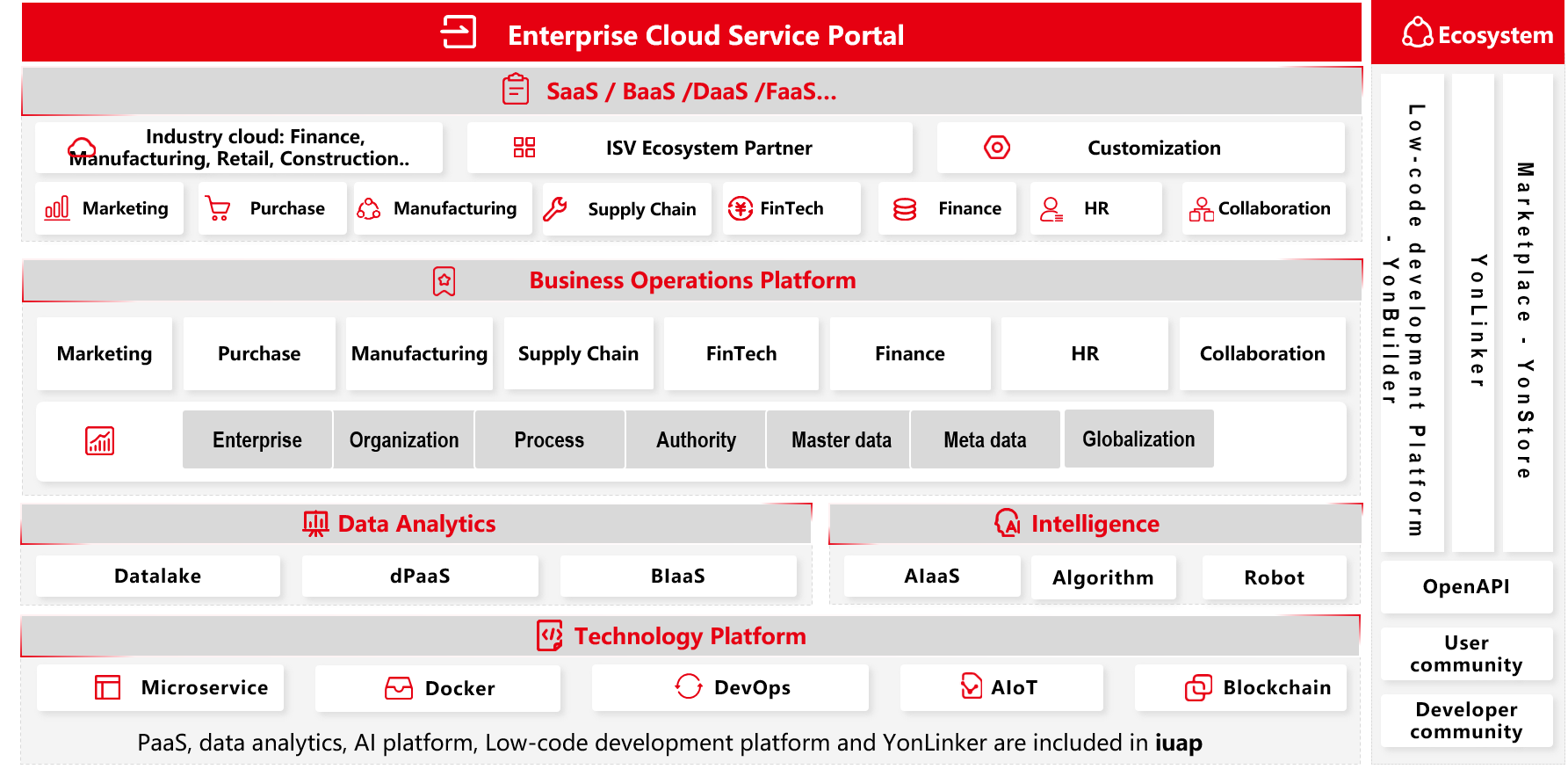 ---
yonyou Cloud Services
Financial Cloud

Smart, precise, and agile accounting in real time

Human Resource Cloud

Digitalized human resource platform to empower employees

Collaborative Cloud

Built for enterprises for ease of communication, and collaboration

Marketing Cloud

One-stop portal for all marketing related business functions, such as digital transactions, CRM, membership management, and more

Procurement Cloud

Intelligent matching recommendations to make purchasing easier even on a global scale

Manufacturing Cloud

Smart IOT, R&D Management, Smart Factory Management, and other integrated management solutions to improve efficacy and reduce costs

Asset Cloud

Integration of asset management & IOT to help predict, report and control based on data

Engineering Cloud

Automates the project quality, progress, and collaboration between stakeholders

Communication Cloud

Focuses on the development of communication in the 5G era using Internet of Things
---
Technology, the Cornerstone of Innovation

Cloud-Native Technology
Streamline costs and operations by automating and standardizing software deployment and operational tasks

Microservice Architecture
Allows swift, frequent, and reliable delivery of large, complex applications

Centralized Architecture
Dedicated resources, cost-efficient, and allows for quick updates that multiple entities can control 

Low Code
Development
Abstract and automate every step of the application lifecycle to streamline the delivery of a variety of solutions

Integration of Data & Artificial Intelligence
Harness the power of machine learning for data preparation tasks in an agile and efficient manner 

AI-Enabled
Reduce human error and enable smart bots (RPA/VPA) to perform repetitive tasks

Integrated & Open Platform
Open-API platform that allows easy integration & customization to third party apps

Driven by New Generation of Technology
Mobile Internet | Cloud Computing | Artificial Intelligence | Big Data | 5G | Internet of Things | Blockchain Technology

Dedicated
User Experience
Step into a portal with workflow customized to an employee's role, and a knowledge center that facilitates the exchange of information 
---


 


 
---
High Level SLA
> 99.95%
IaaS (Single Instance)
> 99.99% 
IaaS (Multi-AZ Instances)