Retail Management Software System Designed for Singapore and Beyond
The retail world is evolving at a dizzying pace, and this transformation goes far beyond just online shopping and ecommerce. Yonyou Singapore's new retail solutions practise the concept of Online to Offline (O2O) processes and provide a fully integrated platform to enterprises. With our retail management software, you can gain control over your group and retail shop operations, enabling efficient management of sales, procurement, financials, and human resources management – all on one handy platform.
---
Cross-border Retail Solution
As a trusted retail management software in Singapore, Yonyou's cross-border retail solution provides an all-encompassing answer to your retail needs. The system combines the different areas of retail including the customer experience, evolving smart retail solutions, enhanced by both in-store marketing collaborations and omnichannel marketing. This powerful synergy targets your audiences where it counts the most.
1. Customer Experience
Enhanced retail shopping experience and omnichannel customer management with the implementation of solutions like membership tracking, shopping history, and integrating the user experience into the entire process.
2. Smart Retail
Evolve the way you do retail with the help of Big Data, AI, IOT and AR/VR solutions. Change how your customers experience the way you do business, and wow consumers with innovative concepts and executions.
3. In-store Collaboration
Front-facing employees are more than just salespeople, they are also your most direct connections to your customer base. Connect your valued members to the frontline staff, allowing for bespoke services and personalised retail solutions that help you stand out from the competition.
4. Omnichannel Marketing
Efficient supply chain management made easier, with no wasted opportunities for you to integrate your marketing efforts. Bring everything together as a cohesive marketing strategy.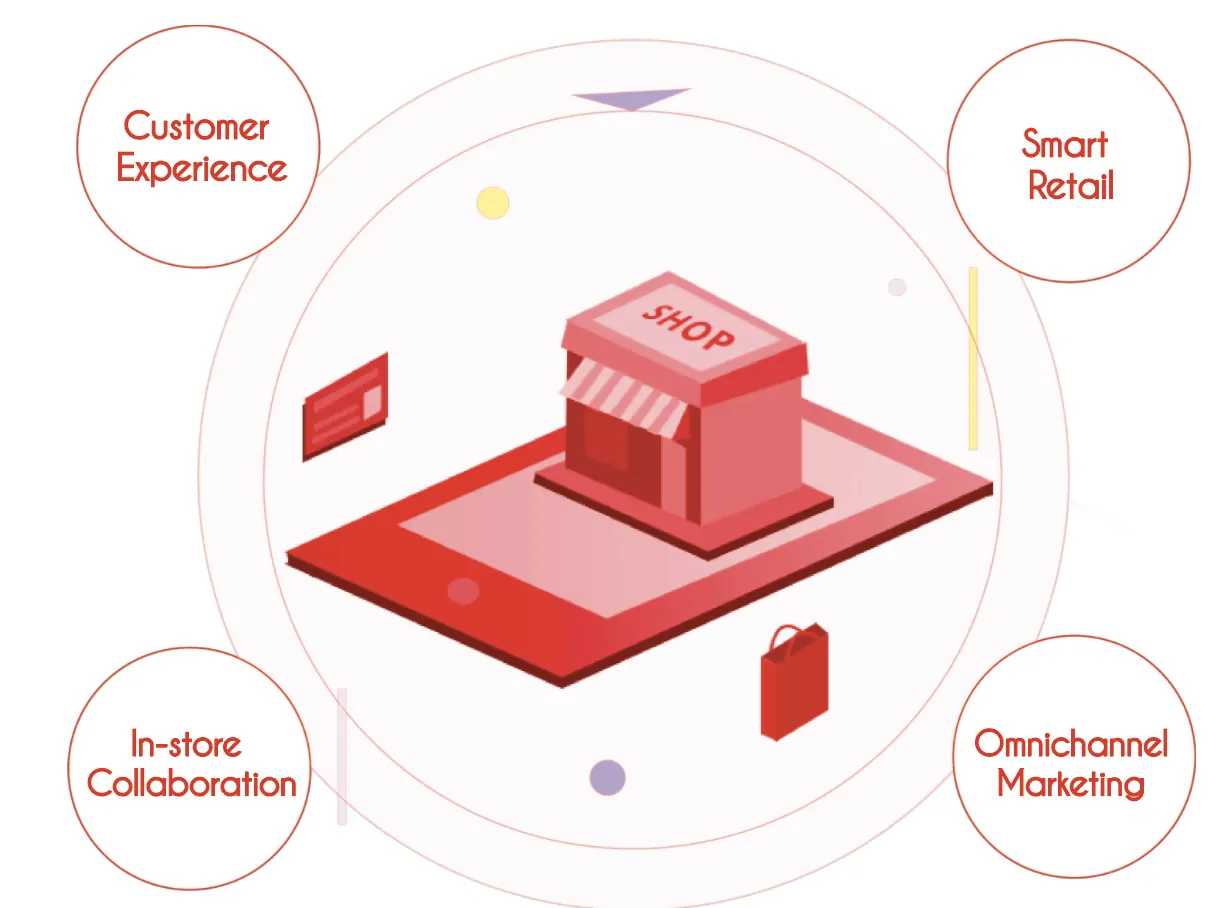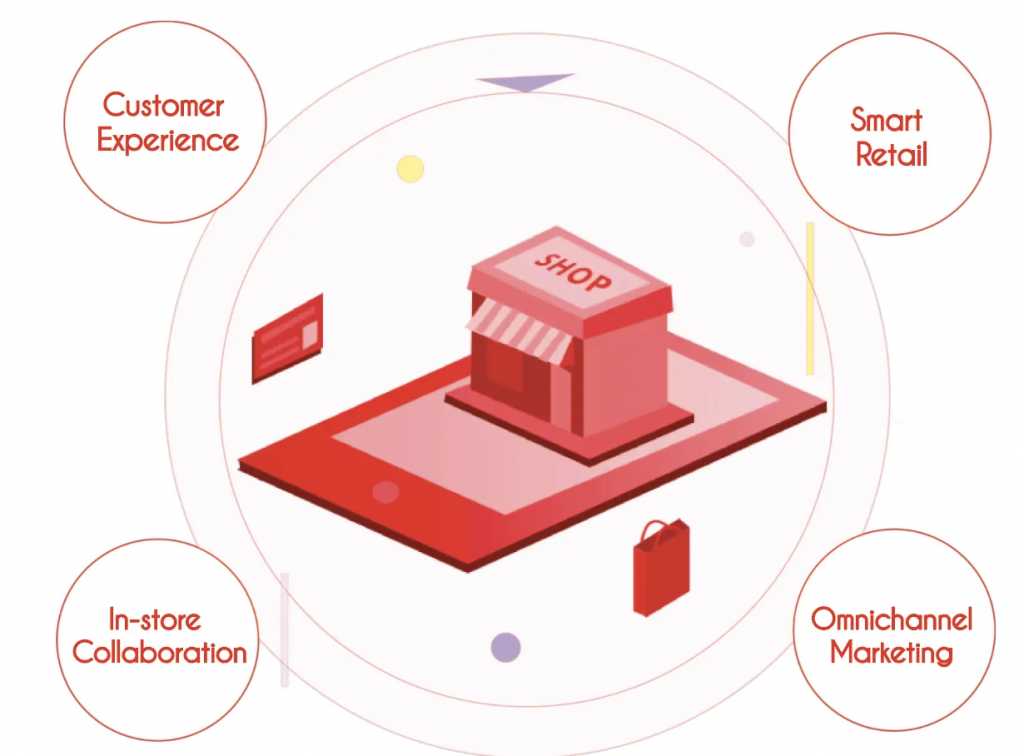 ---
Who does our Retail Software System Serve?
Our retail management system caters to the full spectrum of the retail industry, offering robust support for all stakeholders in Singapore:
Customers
Understanding customers is key to giving good service, which results in stronger customer relationships and new sales
Retailers
A retailer has a direct link to the customer and helps to connect a brand to the market
Wholesalers
A wholesaler purchases the goods from the manufacturer in bulk quantity and re-sells them to retailers in small quantities
Manufacturers
Manufacturers produce finished goods from raw materials and sell these goods to different stakeholders
---
Core Features of our Retail Management Software
Optimise Customer Experiences
Elevate retail shopping with our all-round customer experience optimisation. Integrated O2O membership management, personalised promotions, and unrivalled after-sales service.
Perfect Your Business Strategy
Unleash the potential of Big Data, AI, IoT, and AR/VR to wow customers and boost your operations. Stay ahead in retail with our evolving smart retail solutions. 
Power Up In-store Performance
Empower in-store teams to deliver custom services. Monitor transactions in real-time, enhance transparency, and seamlessly connect with global e-commerce and logistics platforms.
Maximise Efficiency in Marketing
Seamlessly merge customer, sales, and product data with our omnichannel marketing solutions. Streamline operations for an impactful marketing strategy.
---
A Deeper Look into Our Retail Management Software
Omnichannel Marketing

Integrating the customer, sales, product and cash flow information across different marketing channels so that an efficient operation can be achieved

Product Management

Performing real-time transaction management that bring higher transparency throughout the ordering process with our retail management system in Singapore

Cross-border Membership Service

Providing an integrated O2O membership management with personalised sales promotion and after-sales service

New Retail Service

Serving a new shopping experiences and scenarios to the customers through digital operations

CRM Service

Supporting customer-oriented strategy which aims at gaining potential customer, customer conversion and satisfaction

eCommerce Order Center

Helping enterprise interface with cross-border e-commerce marketplaces, payment platforms, warehousing and logistics platforms etc
---
Why Choose Yonyou for your Retail Management Software?
When you choose Yonyou, you're selecting more than a retail management software solution – you're opting for a partnership underpinned by strong security, compliance, support, and education. With over 30 years of expertise, our software seamlessly integrates into your business in Singapore, designed to adapt to your unique requirements.
An integral part of our offering is our comprehensive product training programme. This is specifically curated to equip end users with the necessary knowledge, enhancing their skills to align with your corporate objectives. This systematic, job-competency model-based training fosters a deep understanding of the system, facilitating successful deployment and usage.
In addition, we provide holistic maintenance and support services, delivered by our adept product management team in tandem with our R&D department. This approach has seen us transform retail operations across a multitude of industries and sizes, earning us a reputation as a go-to solution provider in Singapore.
In a space that has constant competition, waiting can often leave you trailing the competition. Get ahead of the pack today by getting in touch with Yonyou now. Our retail management software solutions stand ready to help you rise to the top of the market in Singapore and the APAC region.