制造业概况
通俗地说,制造就是通过使用劳动力、机器、工具和各种加工方法来生产商品。 它将原材料大规模地转化为成品。 在新加坡,制造业占新加坡国内生产总值 (GDP) 的 21%(约 1060 亿新元),它计划在未来 10 年内将制造业增长 50%。 COVID-19 还加速了向工业 4.0 的转变,这是工业革命的一个新阶段,其特点是制造技术中的自动化和实时数据交换。 它为制造、集成计算、网络和物理过程创建了一个互连的生态系统。
工业 4.0 的智能解决方案
用友智能制造解决方案帮助制造企业高效地运行制造业务,从销售订单到工单处理、路由和调度、订单履行和产品成本核算。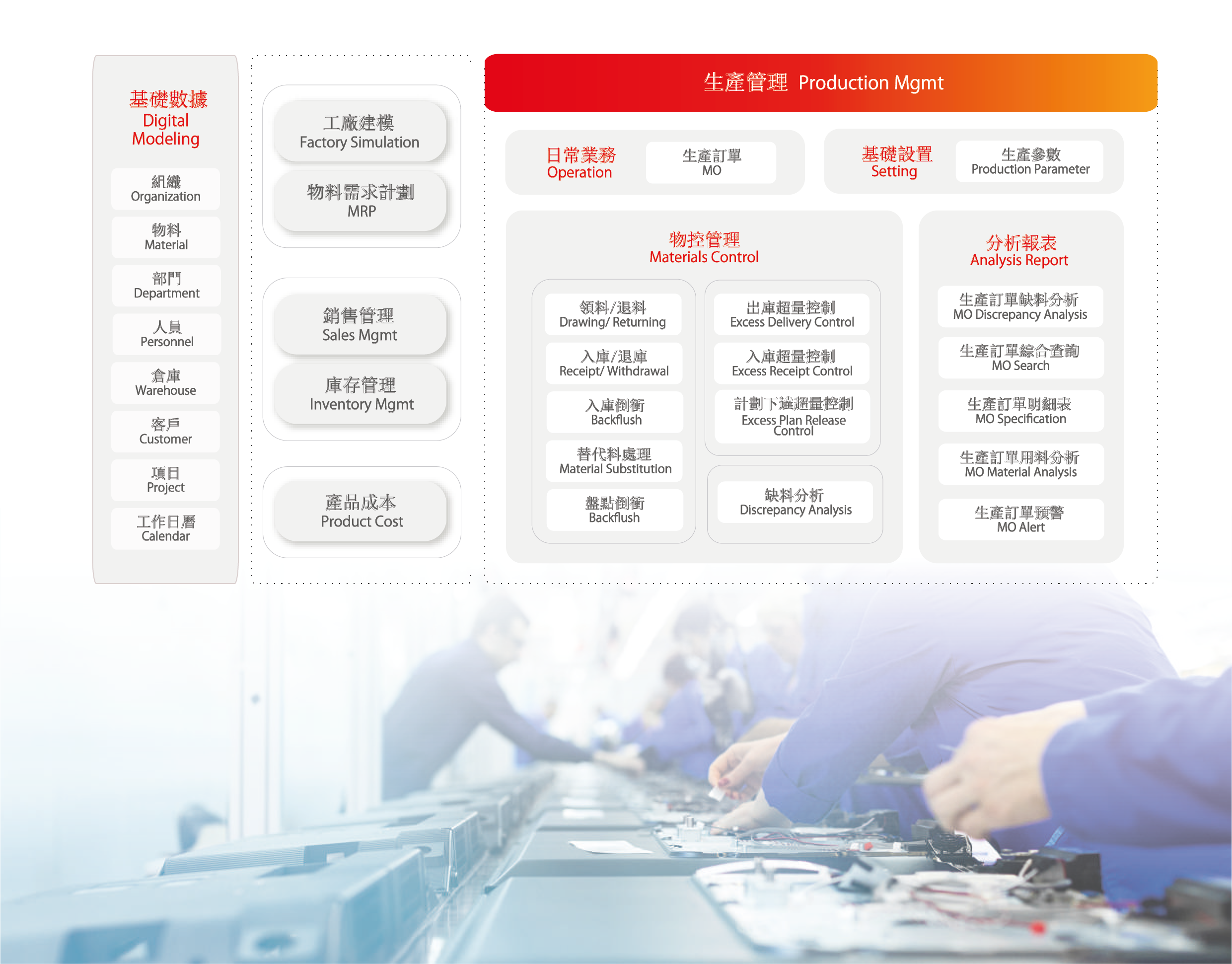 智能制造解决方案概述
---
特征
生产计划

物料需求计划
产品结构
生产途程
备料分析
重新排程计划
协调多工厂排程计划

进度管理

实时进度报告
实时比较计划和实际进度
里程碑分析
设置项目关键日期

现场管理

质量控制
变更订单 管理
纠正措施及建议
缺陷报告
安全管理清单
---
(English)
Features of Our Manufacturing ERP System
Productivity Planning
Optimise production planning with our manufacturing ERP system. Our advanced features, including MPS/MRP planning, BOM and routing management, kitting analysis, rescheduling proposals, and multi-factory scheduling, enable you to optimise processes. Accurately forecast demand, identify bottlenecks, and ensure the right inventory and production capacity to meet customer needs and drive profitability.
Progress Management
Optimise progress management with our ERP system. Gain real-time insights into production status, compare planned versus actual progress, and set key deadlines for better control over your manufacturing processes. Our comprehensive production monitoring features also allow you to identify bottlenecks, take corrective actions, and track production orders, inventory, work orders, and production costs, enhancing transparency, accountability, and operational efficiency as a result.
Site Management
Address the challenges of managing complex production processes and resources across multiple sites with our cloud-based manufacturing ERP system. Effectively manage resources, including labour, materials, and equipment, across multiple sites with features such as quality control (QC), onsite variation and VO management, corrective action suggestions, defect reporting, and safety checklists. 
Why Choose Yonyou for Your Manufacturing ERP System?
We at Yonyou are the preferred partner for manufacturers seeking to optimise their operations and drive growth. With our comprehensive solutions, exceptional support, and advanced technology, we provide the necessary tools you need to succeed.
Our state-of-the-art software is specifically designed for the manufacturing industry, covering the entire manufacturing process from sales order processing to work order management, routing and scheduling, order fulfilment, and product costing. By implementing our smart manufacturing solution, you can efficiently run your operations and streamline your processes for improved efficiency.
However, our commitment doesn't stop at offering a full suite of ERP business software solutions. We also offer a wide range of professional services to support you at every step. This means that our experienced consultants can provide business consulting, implementation, training, and ongoing support tailored to meet your unique needs. We understand that each business is different, and we work closely with you to ensure a successful ERP implementation.
Customer support and ongoing training are also at the forefront of our priorities. Our dedicated support team is always available to address your questions and resolve any issues promptly. In addition, comprehensive training programmes are offered to equip your team with the necessary skills to effectively utilise our manufacturing ERP system.
Moreover, to ensure the optimal performance of your ERP system, we offer robust maintenance and support services. Our skilled product management team and Research & Development departments also work diligently to safeguard the system, handle upgrades and releases, and minimise risks. Our goal is to reduce your total cost of ownership and ensure the smooth operation of your ERP system.
Furthermore, data security and compliance are paramount to us. We employ stringent security measures and adhere to industry standards and regulations to protect your valuable manufacturing data. Rest assured, your data is safe and secure within our ERP system.
用友如何融入您的业务活动
机械/造船
机械解决方案专注于敏捷制造和精确规划。 支持按订单生产、订单组装、批量定制生产等多种模式。
生命科学
生命科学解决方案以GMP质量管理、深度销售、营销管理和精准成本管理为核心,通过对接上游供应商、下游经销商和供应商,帮助制药企业实现敏捷的内部管理和协同的外部供应链管控。 最终用户。
精密工程/电子
电子解决方案侧重于协作和管理以及从采购到成本控制的运营流程。 它实现了供应链中利益相关者之间的实时信息共享,消除了需求波动,降低了成本并提高了订单履行的准确性。
化学
化学品解决方案满足行业的基本需求,包括批量采购、基于质量的价格计算、条形码管理、制造数据监控、资产管理、质量管理和成本管理。 它旨在增强公司适应瞬息万变的市场的能力,并在制造过程中保持高安全水平。
食品加工
食品加工解决方案涵盖食品安全管理、供应链、制造成本、分销、预算和协作。 适用于管理食品加工业,支持灵活的计划和精准的成本控制,使企业的成长有坚实的基础。