Yonyou Receives Honorable Mention in Gartner's 2023 Magic Quadrant for ERP Cloud for Service-Oriented Enterprises
---
Recently, Gartner, the world's leading information technology research and consulting company, released the 2023 Magic Quadrant for ERP Cloud for Service-Oriented Enterprises. Yonyou was selected as an Honorable Mention, and is the only Chinese vendor to be included in the report. Additionally, Yonyou ranks eighth in the global ERP SaaS market share, and is the only Asia-Pacific vendor in the top 10.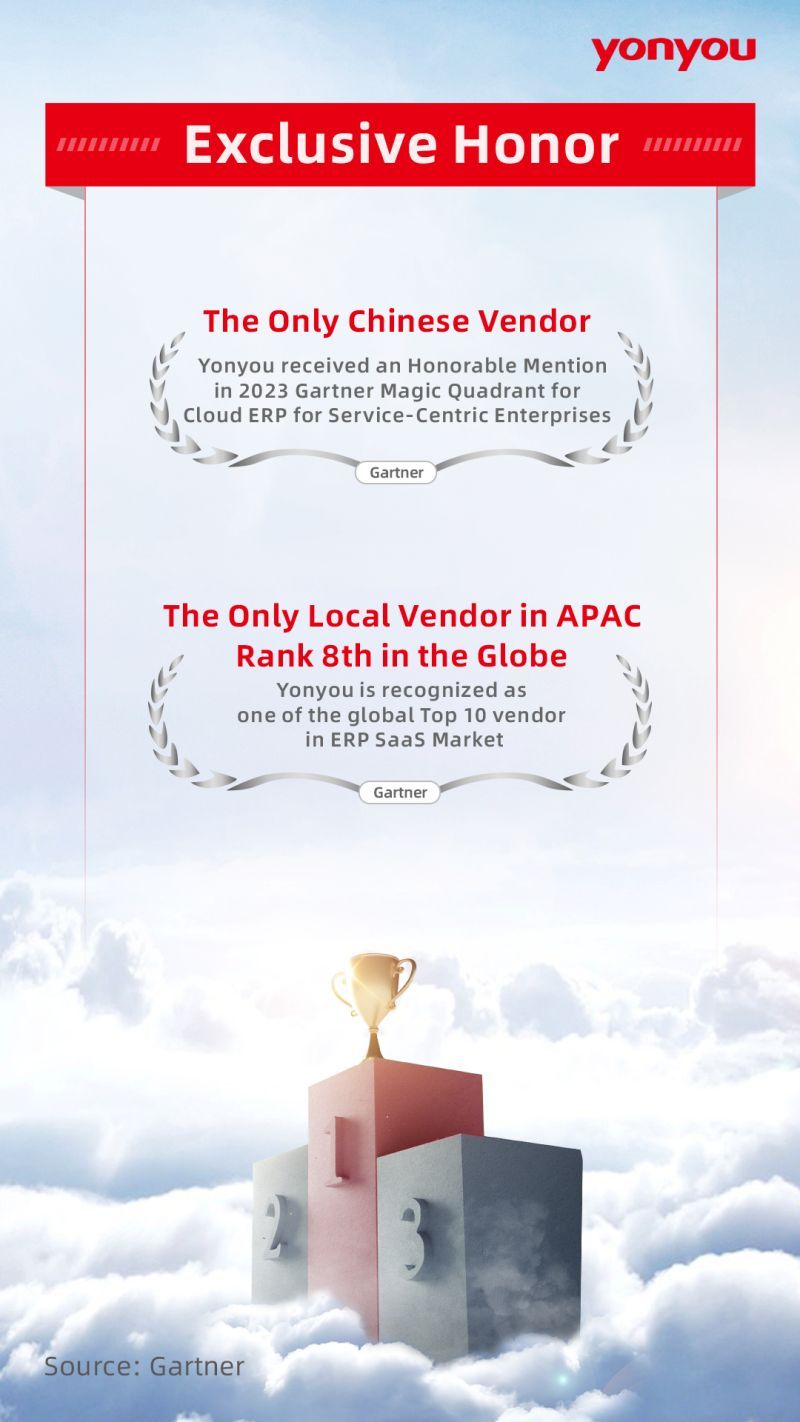 About Gartner Magic Quadrant
Gartner Magic Quadrant is a research methodology and visualization tool launched by Gartner to monitor and evaluate the development and positioning of companies in the professional technology market. It is a recognized weather vane in the industry and an important report for Fortune 500 CIOs when purchasing technology products. in accordance with. Being included in the honorable mention list of Gartner's Magic Quadrant report means that Yonyou has received great recognition from Gartner in terms of company strength, product capabilities, market appeal, and technological strength.
Yonyou has been in the enterprise service industry for 35 years. After innovating financial and ERP software, Yonyou strategically invested in and developed YonBIP, a new generation of business innovation platform, supporting enterprise service products for digital intelligent enterprises. YonBIP's platform technology and application architecture have achieved comprehensive breakthroughs in three areas: field, industry application, and ecosystem, reaching the world's leading level. YonBIP now processes over 10 billion service requests daily.

YonBIP, Yonyou's Business Innovation Platform
YonBIP has 8 first-of-its-kind or leading platform technologies, 8 leading application architectures, and 564 innovative services covering 10 core areas, including finance, human resources, and supply chain. It also has nearly 100 leading enterprise business and industry segments.
A large Yonyou client uses YonBIP to support the financial, human resources, and supply chain management of 1,310 legal entities and 7,494 business units. A large energy conglomerate uses YonBIP to achieve one-click mergers of more than 700 accounting entities, 1.5 times faster than similar foreign products. Another large Yonyou client, a state-owned bank, implemented microservice deployment through YonBIP's full-stack cloud container environment, creating a new test and verification model that ensures accuracy while reducing test time. To reduce costs, the bank successfully replaced similar foreign products that had been in service for more than 10 years, implemented the transformation of the core accounting system, and doubled the efficiency of financial work.
More than 39,600 large and medium-sized enterprises, including many China state-owned enterprises and leading private enterprises, have chosen YonBIP to promote digital intelligence business innovation. It has become the preferred platform for digital intelligence construction of many industry-leading enterprises in China and around the world. YonBIP has been hailed as the "country's important tool" for enterprise digital intelligence.
Yonyou's corporate mission is to "use creativity and technology to promote business and social progress." In this new era, Yonyou will shoulder the important task of leading the vigorous development of China's software industry. By popularizing YonBIP, Yonyou will serve the digital intelligence of Chinese and global enterprises, lead enterprises to a new stage of data-driven and intelligent operations, and expand the use of digital intelligence to more industries. The success of enterprises will provide comprehensive assistance for leveraging the advantages of the digital economy and achieving high-quality development.