Yonyou Releases "White Paper on Globalization of Digital Operations for Chinese Enterprises", Empowering Global Expansion and Digital Transformation
---
On August 19, 2023, Yonyou unveiled the "White Paper on Globalization of Digital Operations for Chinese Enterprises" at the "Chinese Enterprises Going Global" forum in Shanghai National Exhibition and Convention Center. The white paper aims to support Chinese enterprises in their global expansion and digital transformation.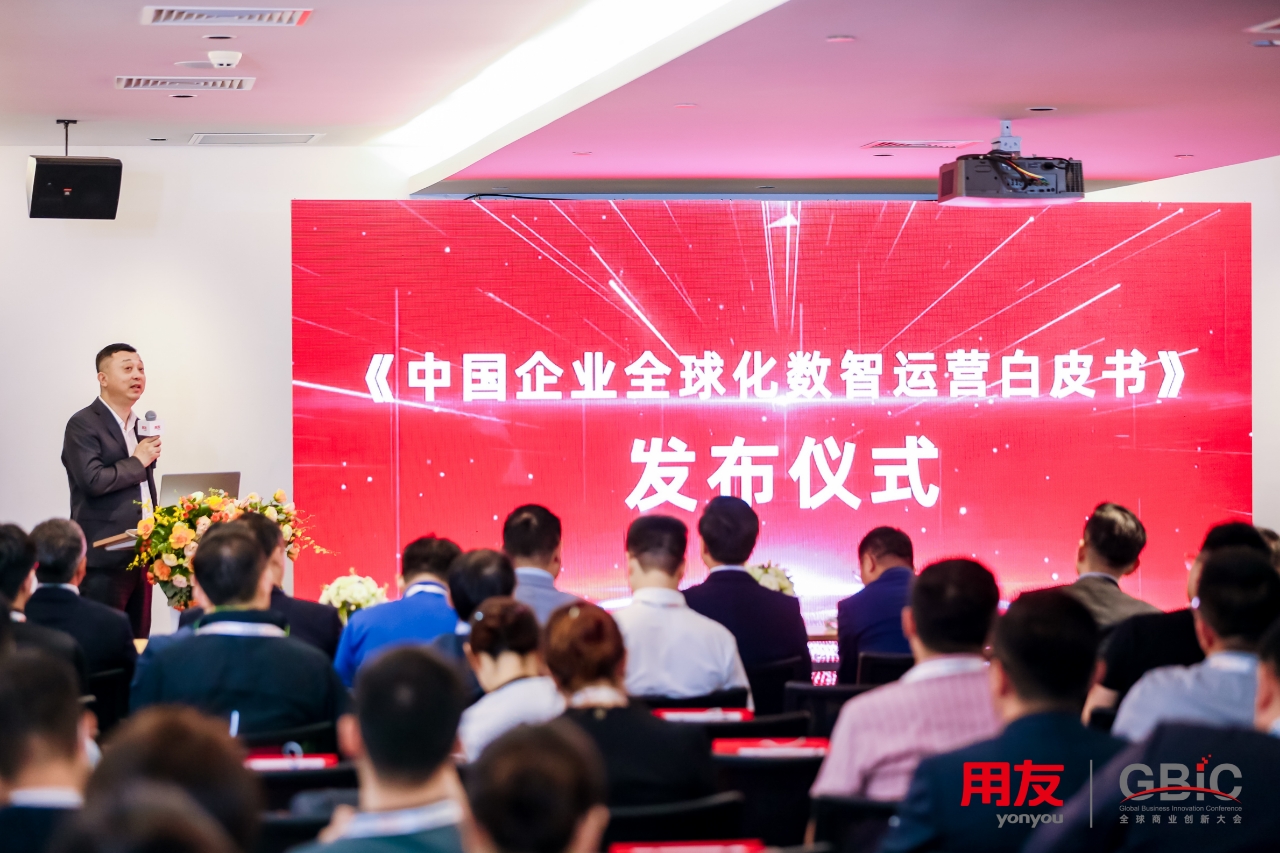 Launching Ceremony: White Paper on Globalization of Digital Operations for Chinese Enterprises
Holistic Development: New Patterns, New Challenges, Accelerated Globalization
Amidst new global dynamics and challenges, more Chinese companies are embracing digital economic opportunities to expand internationally. Yonyou Overseas's General Manager, Dr. Bowen Guo, unveiled the global 2.0 strategy at the Chinese Enterprise Globalization Forum. This paper delves into the evolving landscape and challenges faced by Chinese enterprises global operations under the "Belt and Road" initiative and dual circulation policies. It highlights four global operational models: export, overseas marketing, overseas operations, and global integration.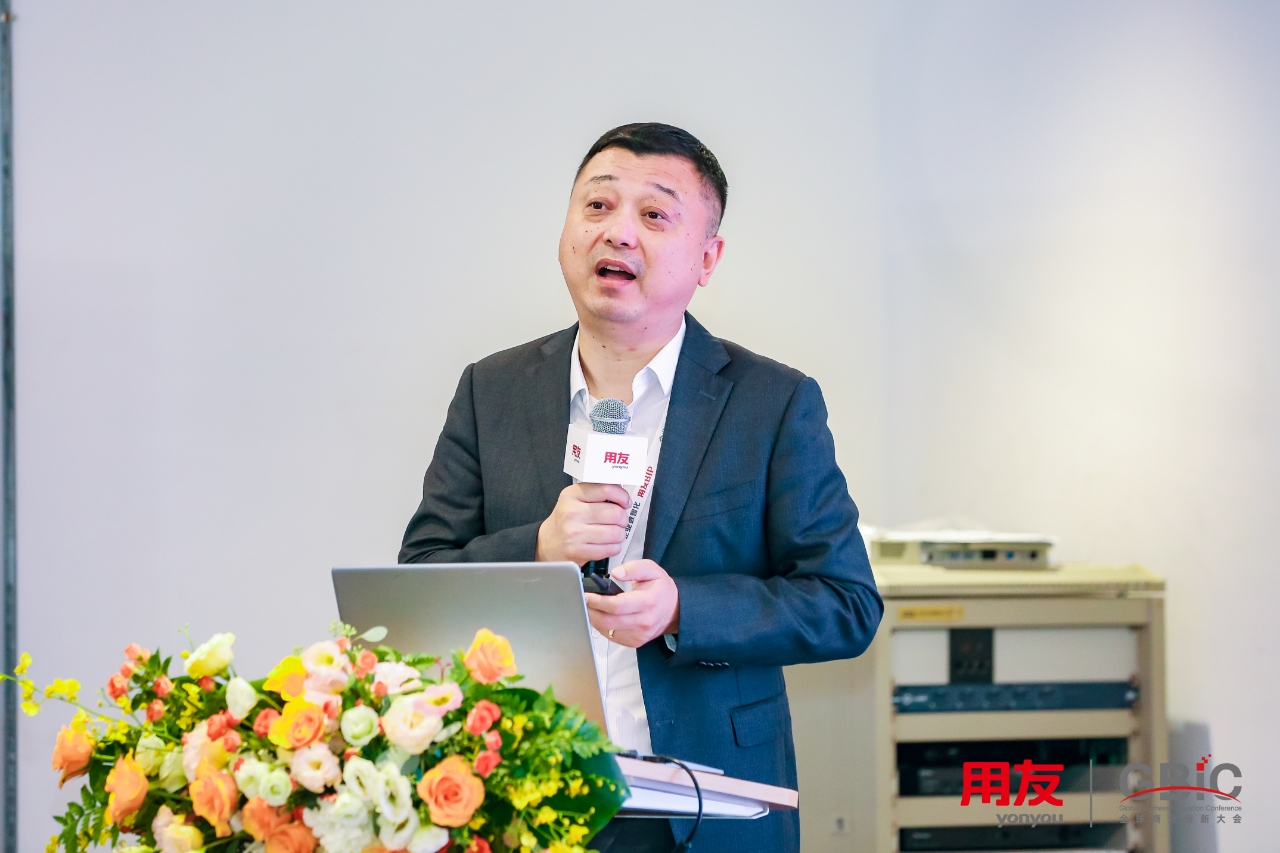 Dr. Bowen Guo, General Manager of Yonyou Overseas
Digital Intelligence Foundation: Solutions for Chinese Enterprise Global Operations
Following the introduction of the White Paper, Mr. Liu Meixiang, General Manager of Yonyou North America, further introduced Yonyou BIP globalized digital intelligence solution. Yonyou BIP is a new generation of service enterprise digital intelligence product developed by Yonyou after seven years of research and development. It supports multi-language, multi-time zone, multi-format, multi-currency, multi-standard, and localized access, enabling regional and localized applications based on customer business application scenarios.
Regionalized and localized applications can be developed based on the customer's business application scenarios. the scope of localized applications can be further expanded by relying on the globalized data model. Mr. Liu highlighted the topic of global compliance and data security and privacy protection. He provided insights on business scenarios and solutions for Chinese enterprises going overseas under the GDPR, including finance, tax, human resources, recruitment, procurement, and collaboration areas. He also proposed targeted development strategies for planning and building enterprises' global competitiveness.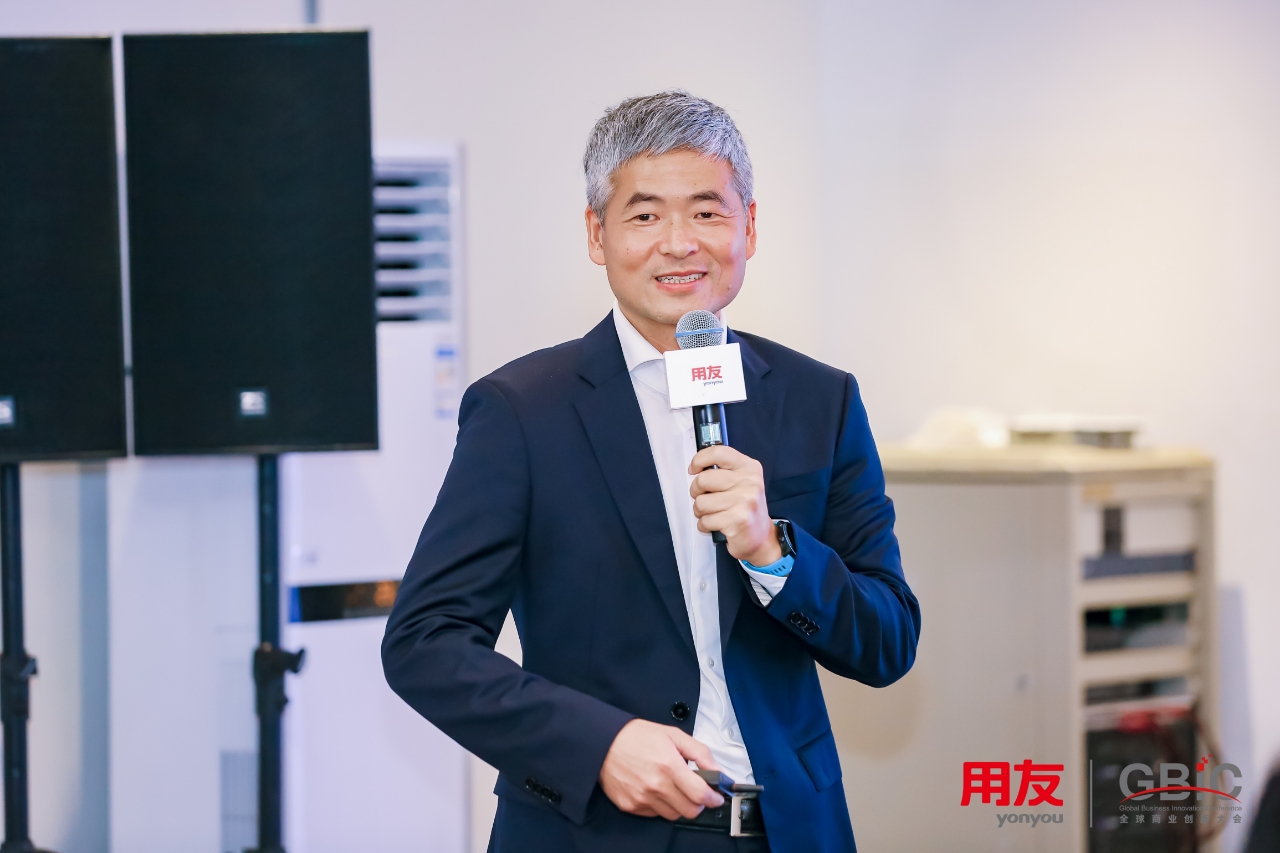 Sunny Lau, General Manager of Yonyou North America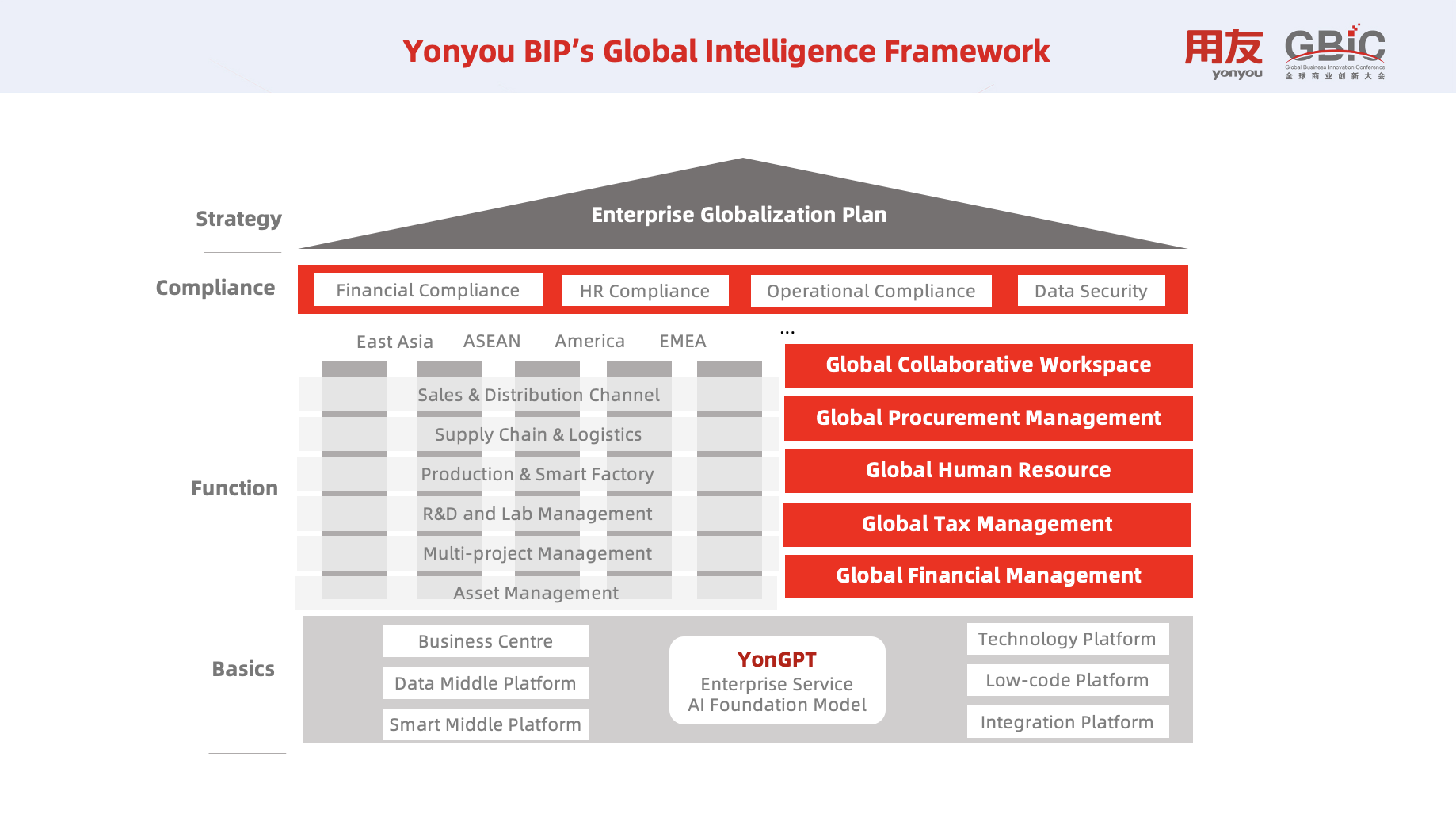 Global Operations Solutions Framework for Chinese Enterprises
Global Success: Case Studies of Chinese Enterprises
The White Paper showcases successful global operation case studies of Chinese enterprises. For example, China Mobile International partnered with Yonyou to build an integrated global HR platform. This platform manages staff performance across 35 countries and integrates 25 sub-processes. Yonyou also supported Wolong Electric Group's digital procurement platform, which reduced costs by over 10%. Additionally, Yonyou transformed Walsin Lihwa into a digital intelligent factory across Taiwan and Mainland China. Yonyou's Overseas Business Unit was founded in Hong Kong in 2003 and has 20 years of experience. Yonyou has provided best practices for thousands of mid-size and large enterprises in a variety of industries, including finance, retail, real estate, construction, and trading. Yonyou continues to drive cross-border management and business innovation for enterprises.
From Asia-Pacific to the Global Stage: Yonyou Embarks on the Era of Globalization 2.0
The release of the White Paper marks the beginning of a new phase for Yonyou Overseas in Globalization 2.0. Dr. Bowen Guo highlighted plans to enter Europe, North America, Japan, and the Middle East within three years, covering over a hundred countries. This strategy aligns with the White Paper's concepts, which support Chinese enterprises' digital transformation for global expansion.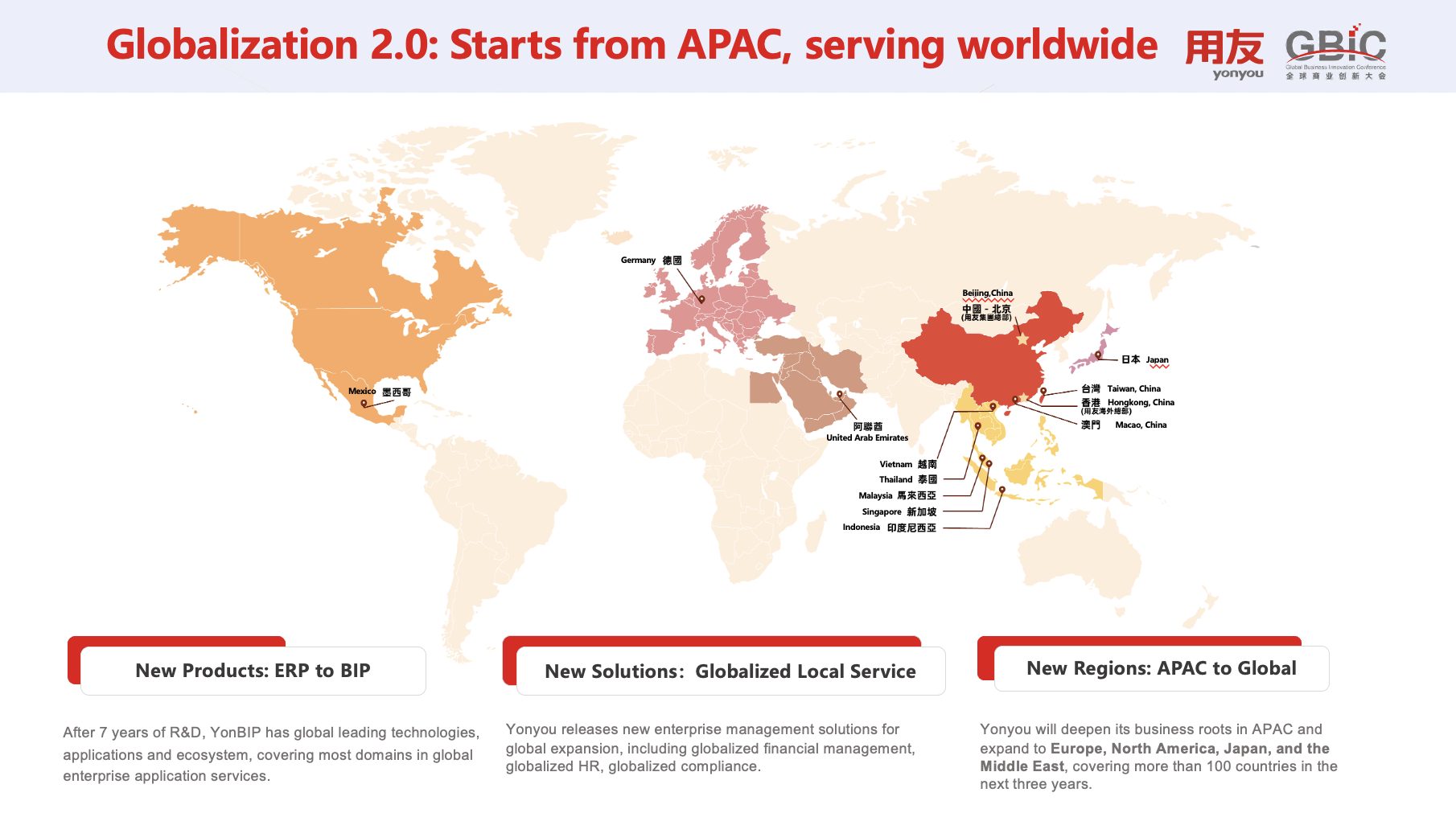 Globalization 2.0: Starting from APAC, Serving Worldwide
Collaboration & Win-Win: A New Ecosystem for Global Expansion
In the era of globalization, digital transformation is essential for Chinese enterprises to achieve global operations. The White Paper provides a comprehensive guide to help Chinese companies navigate this journey, offering strategies, solutions, and best practices.