Seminar Recap: Innovative Jewellery Solutions for Success in Digital Era
YONYOU SINGAPORE
---
On July 25th, Yonyou Singapore successfully hosted an exclusive jewellery retail solution sharing session. Despite its small scale, the event was rich in content, offering a glimpse into the fascinating discussions that took place. This unique gathering specifically invited local retail businesses from Singapore, aiming to explore the development direction of the retail industry and construct innovative solutions under the framework of new retail thinking, empowering enterprises to thrive in a fiercely competitive market.
In the era of digitalization, the retail industry faces increasing challenges and opportunities. To meet the diverse needs of consumers, retailers must adopt various methods to enhance competitiveness, such as multi-channel sales, online-offline integration, digitalized operations, personalized marketing, and seamless customer experiences. Youniverse's new retail solution provides a comprehensive digital transformation approach tailored for retailers, helping them improve efficiency, reduce costs, enhance brand influence, and elevate customer experiences.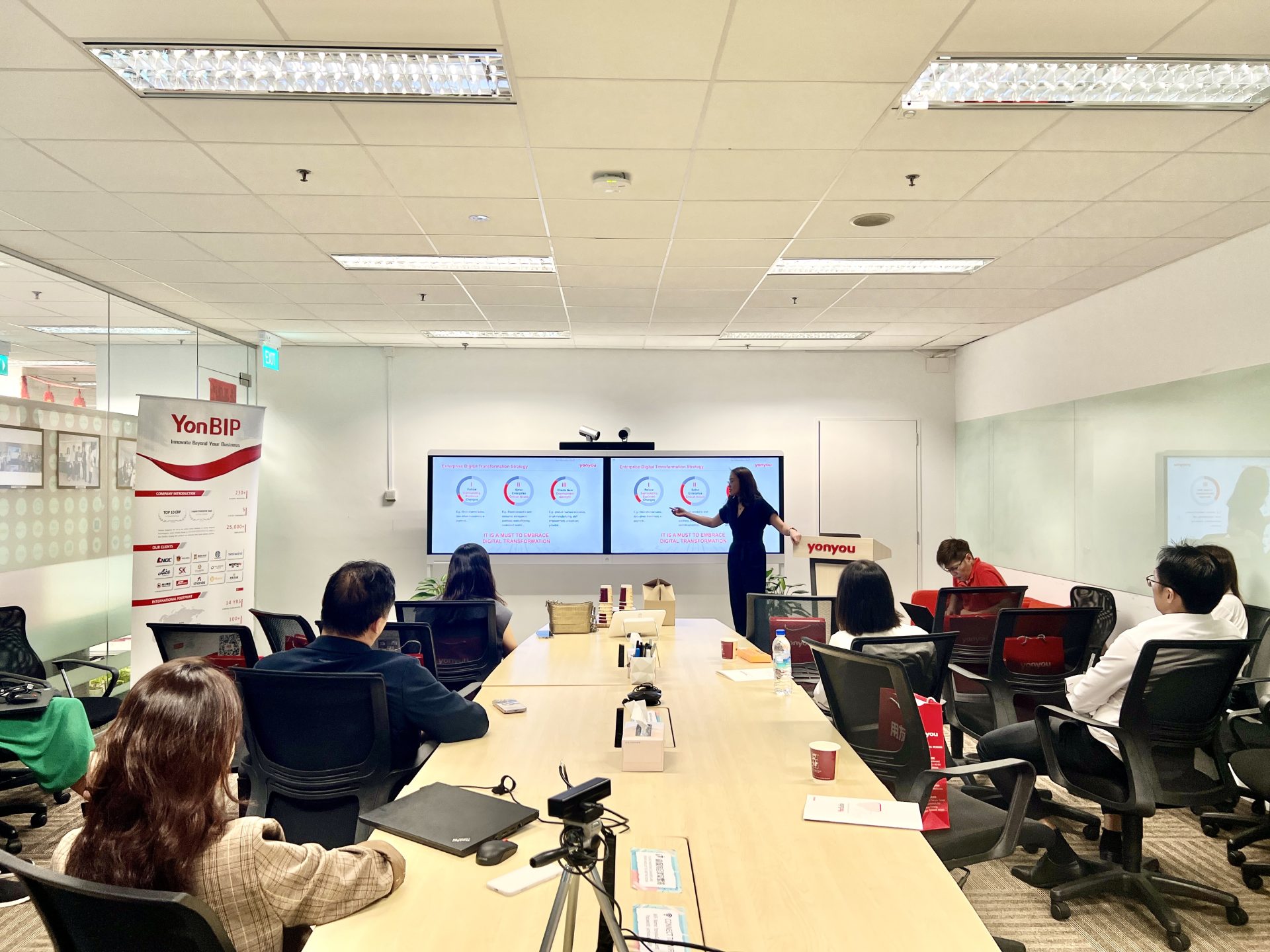 [Speech by Xinxin Zhang, Business Development Manager of Yonyou Singapore]
During the session, the core theme revolved around new retail, and by referencing project cases in the jewellery industry, participants delved into the challenges and opportunities brought forth by the digital era. Xinxin Zhang, the Business Development Manager at Yonyou Singapore, delivered a comprehensive overview and insights into how Yonyou facilitates retail enterprises' digital transformation. Faced with economic downturns, consumer downgrading, and changing touchpoints, brands must stand out in the intense offline retail competition, necessitating a shift from store-centric to consumer-centric strategies, with innovation in omni-channel retailing being crucial. The digital transformation of retail revolves around four essential directions: "digitalizing devices, onlineizing business, data-empowered operations, and intelligent decision-making."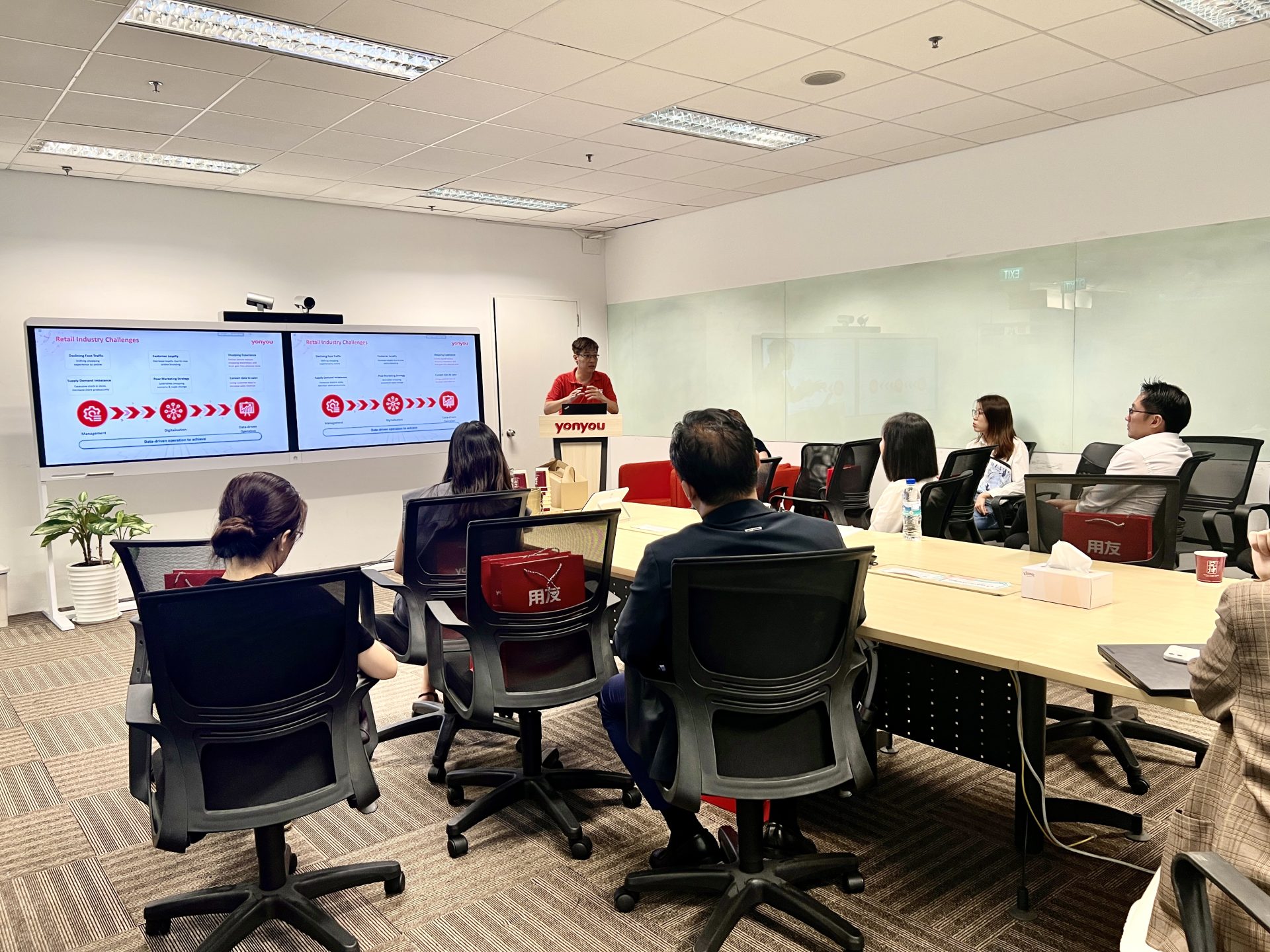 [Speech by Benjamin Ooi, Business Development Manager of Yonyou Singapore]
Following that, Benjamin Ooi, another Business Development Manager, shared key scenarios from Yonyou's completed local retail enterprise cases. Yonyou's new retail products enable brand enterprises to build a seamless boundaryless retail landscape. This includes a socialized connection of new retail products, omni-channel membership operations, seamless integration of membership centers, supporting the fusion of memberships across all channels, offering abundant C-end marketing and operational tools, invigorating the membership base, and precisely analysing member profiles for targeted marketing. The localisation of Yonyou's new retail solution ensures a perfect fit for the unique demands of Singapore's local retail enterprises.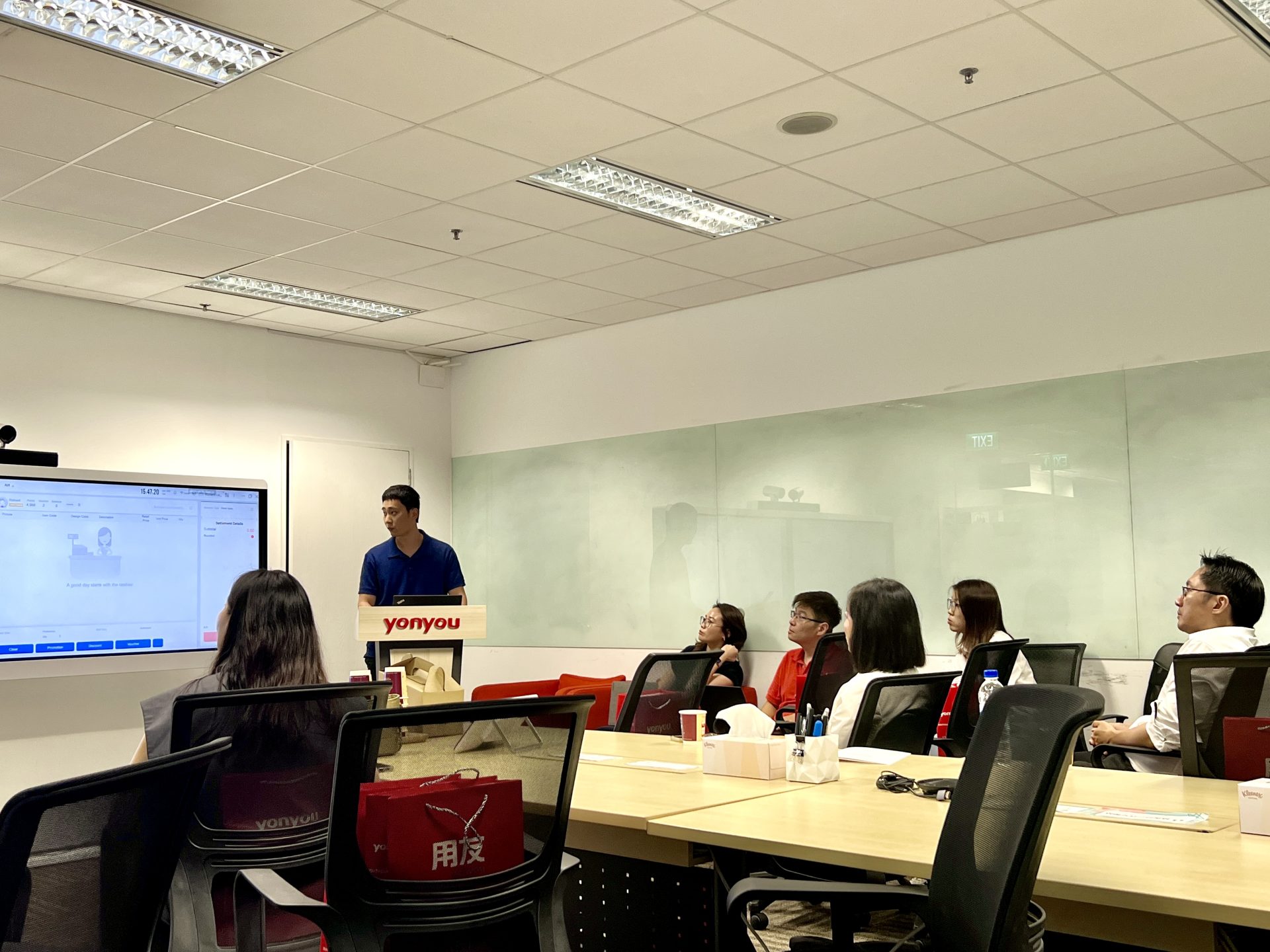 [Speech by Richard Liu, Project Consultant of Yonyou Singapore]
Meanwhile, Project Consultant Richard Liu has conducted a systematic scene demonstration, illustrating the construction of a boundaryless retail environment that enables digital transactions for businesses. Yonyou's new retail solutions provide an all-inclusive omni-channel entry point, connecting consumers through online-to-offline interactions, achieving seamless integration of stores, and streamlining fulfilment processes. In the boundaryless retail scenarios demonstrated, functionalities such as POS order placement and in-store verification of flow coupons were presented. This utilization of store "connection" and "fulfilment" capabilities enhance the work experience of employees and elevate sales efficiency.
The jewellery industry-focused seminar not only provided participants with a deeper understanding of the digital transformation within the sector but also served as a platform for extensive exchange and sharing among industry peers. Yonyou's new retail solution empowers enterprises to discover more opportunities in the market competition and elevates their business growth with the power of digitalisation.