Seminar Recap: Digital Solutions for Retail & Wholesale Industry
---
On Monday afternoon, September 18, Yonyou Singapore held a sharing about digital solutions for the retail and wholesale industry at the Singapore Business Federation (SBF). Featuring four speakers: Zhang Xinxin, Ilysia Tan, Benjamin Ooi, and Hugo Xie.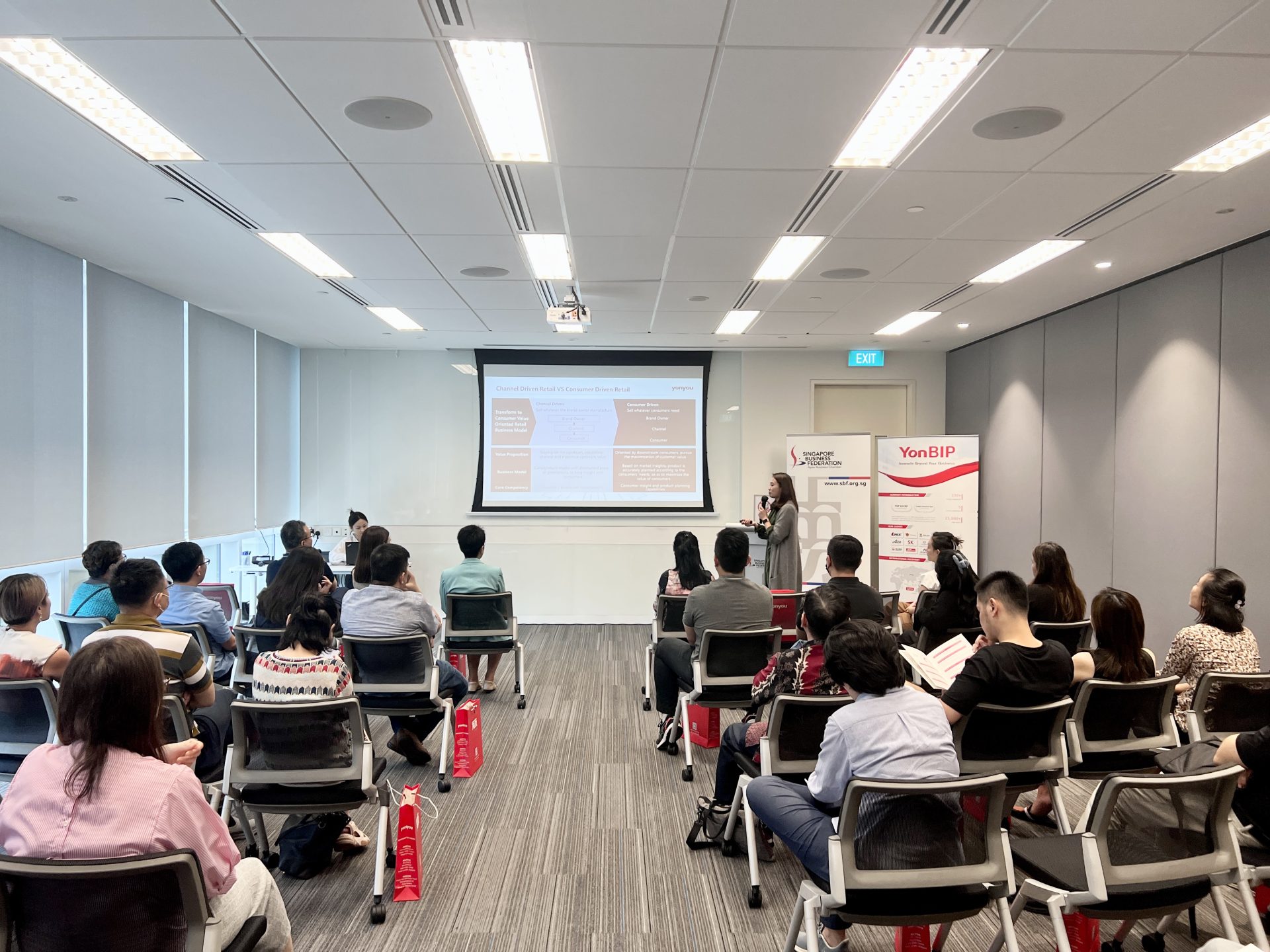 Zhang Xinxin, Business Development Manager of Yonyou Singapore
Xinxin shared about Yonyou's progress towards its Globalization 2.0 strategy, which includes further expansion in Asia-Pacific and the establishment of new branches in Germany & North America in 2023. As an industry leader in China and ERP & digital solution provider to 60% of China's top 100 companies, Yonyou has advanced and well-rounded capabilities, with industry knowledge in various fields and sectors.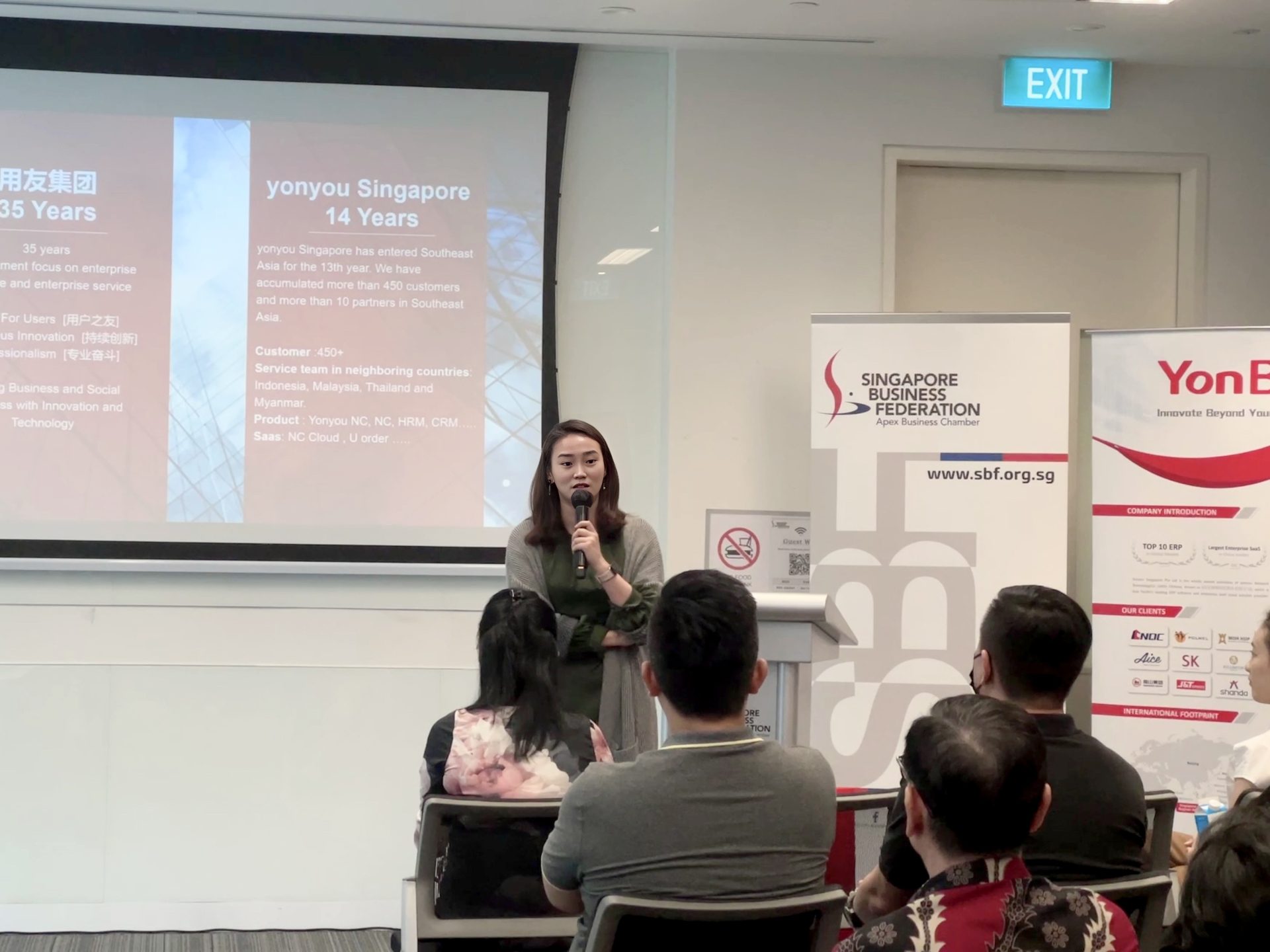 Xinxin sharing about Yonyou's growth plans
Yonyou's new AI tool, YonGPT, works like a personal assistant, pulling up related information when prompted, helping with analysis of business information, and generating dashboards, charts, and graphs to help users make the best use of information within YonBIP (Yonyou's Business Innovation Platform).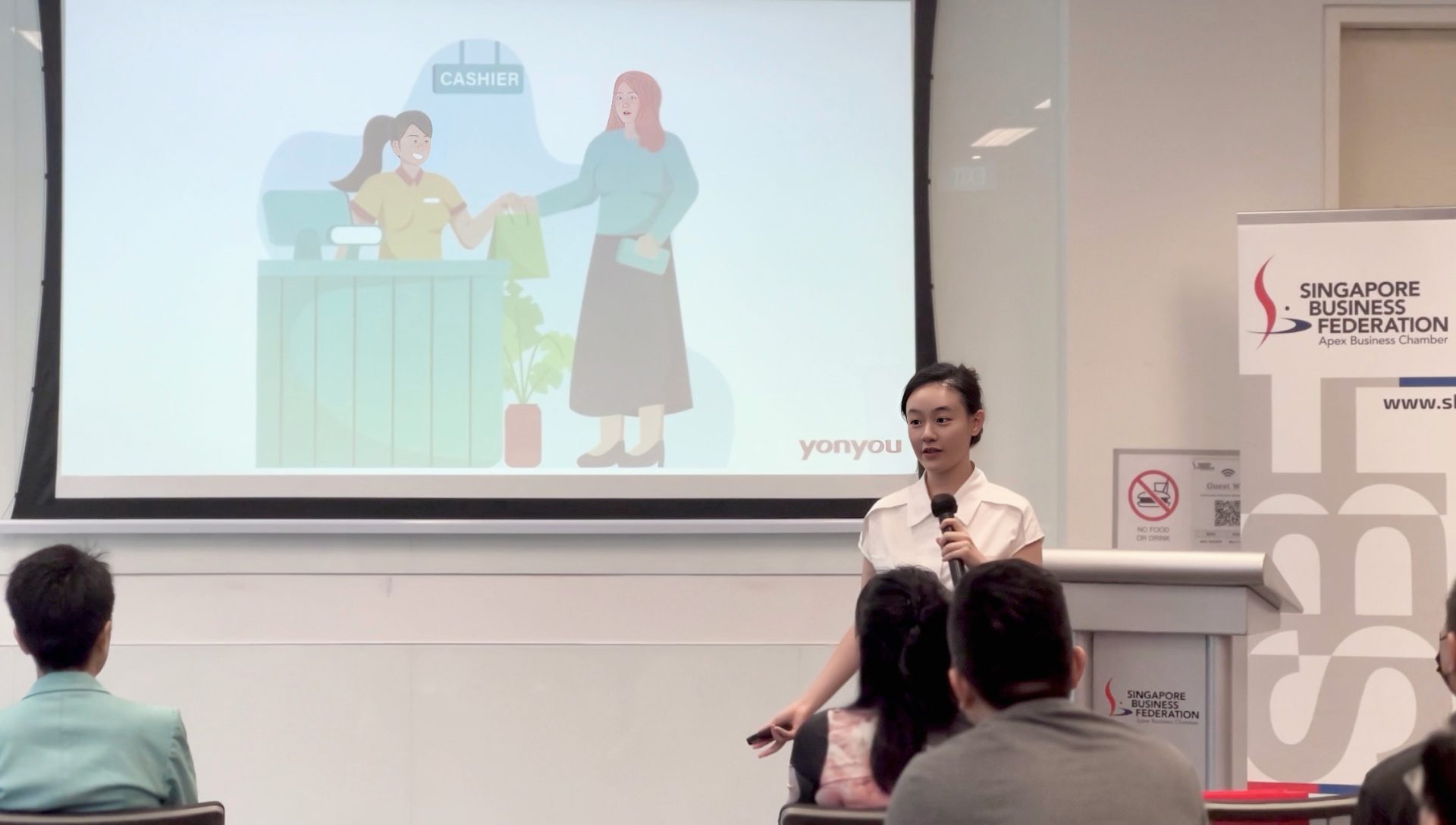 Ilysia Tan, Marketing Manager of Yonyou Singapore
Ilysia shared about the importance of reassessing the modern customer journey and needs, and a few digital solutions that can address new demands and business requirements. Two areas of the 4Ps—pricing and promotion—can be tedious and difficult to manage, especially when employing an omni-channel retail strategy. Yonyou's price formula setup system integrates with the inventory management system, allowing businesses to automatically calculate prices once stock is received and react seamlessly to any cost or strategy changes.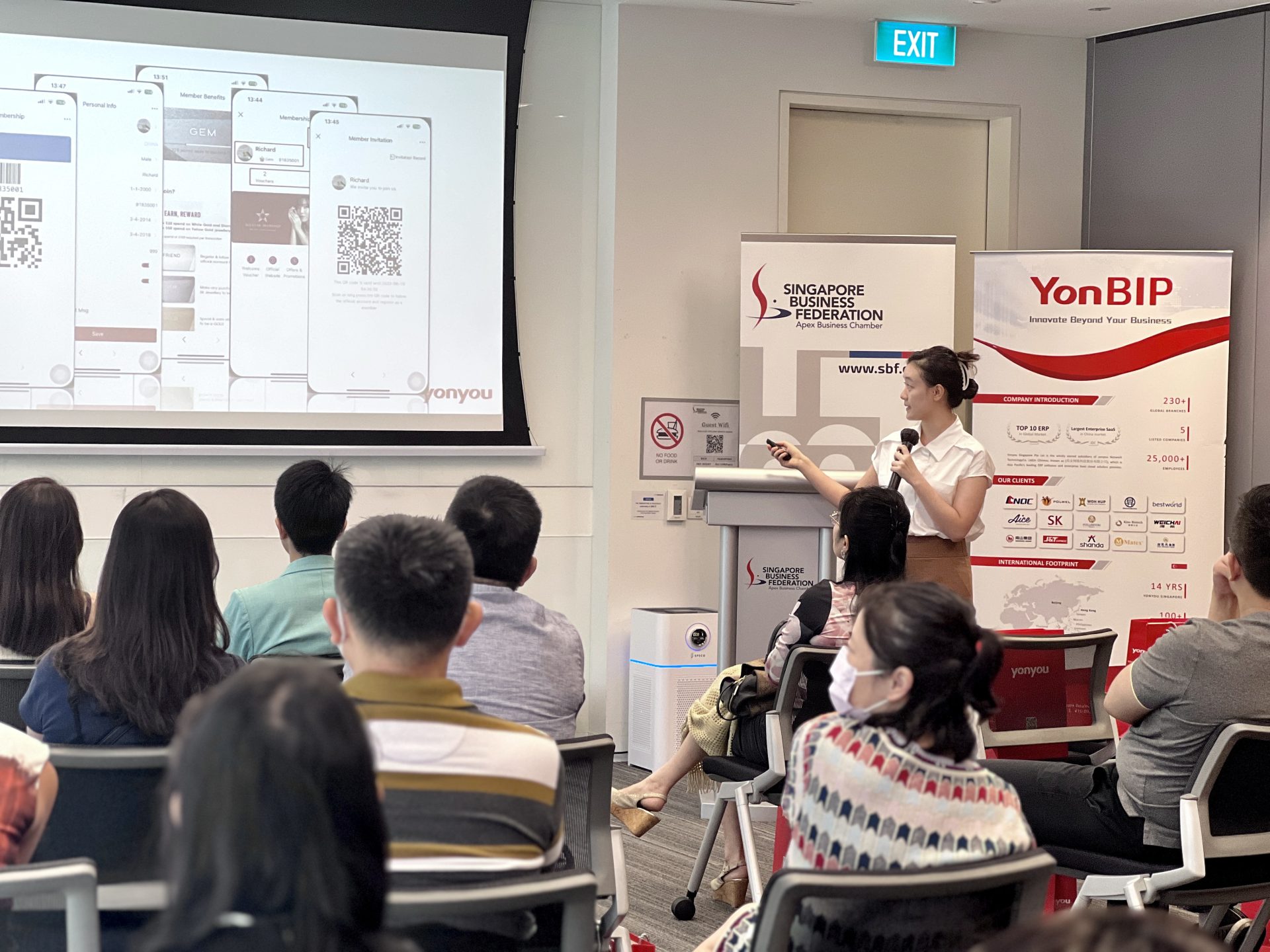 Ilysia showing some examples of the membership app
Yonyou's promotion center provides quick settings to implement various promotion types, as well as the ability to set up special rules and controls to ensure that promotions are not misused. It also allows businesses to analyze and manage the efficacy of their promotion campaigns.
Yonyou's POS system integrates with the Membership Center, ensuring clear visualization and analysis of member information during conversion.
Benjamin's talk highlights the importance of digital transformation for large enterprises. By implementing digital solutions such as Yonyou's BIP, large enterprises can automate complex tasks, improve efficiency, and reduce costs.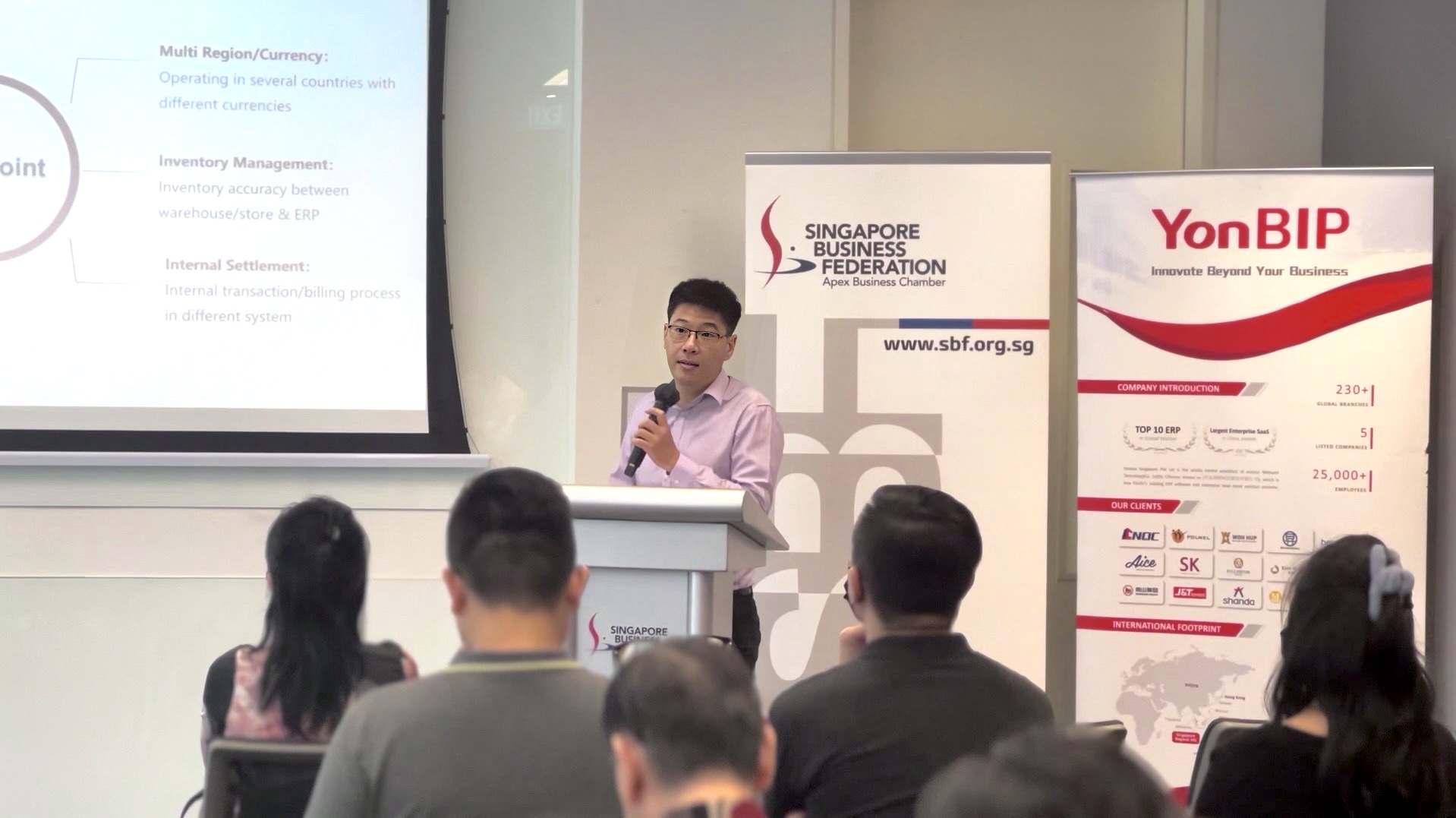 Benjamin Ooi, Business Development Manager of Yonyou Singapore
The 3 examples (RichL Group, Scarlett Supermarket, Diginut) that Benjamin discusses illustrate how Yonyou's BIP can be used to solve specific problems faced by large enterprises.
RichL group
RichL was able to integrate their operational and financial data seamlessly for 5 outlets globally, all in one platform. This helps RichL monitor business performance effortlessly especially with the easy visualization tools built in the system.
Scarlett Supermarket
Scarlett Supermarket was able to use the Warehouse Management System (WMS) and Enterprise Resource Planning System (ERP) to improve systematic placement and efficiency of stock transfer and checking.
Diginut
Diginut, a Singapore-based electronics company, was able to use internal transaction management and commission management functions to manage 3 different business units efficiently, streamlining supply chain processes and ensuring transparency and easy-calculation of commissions.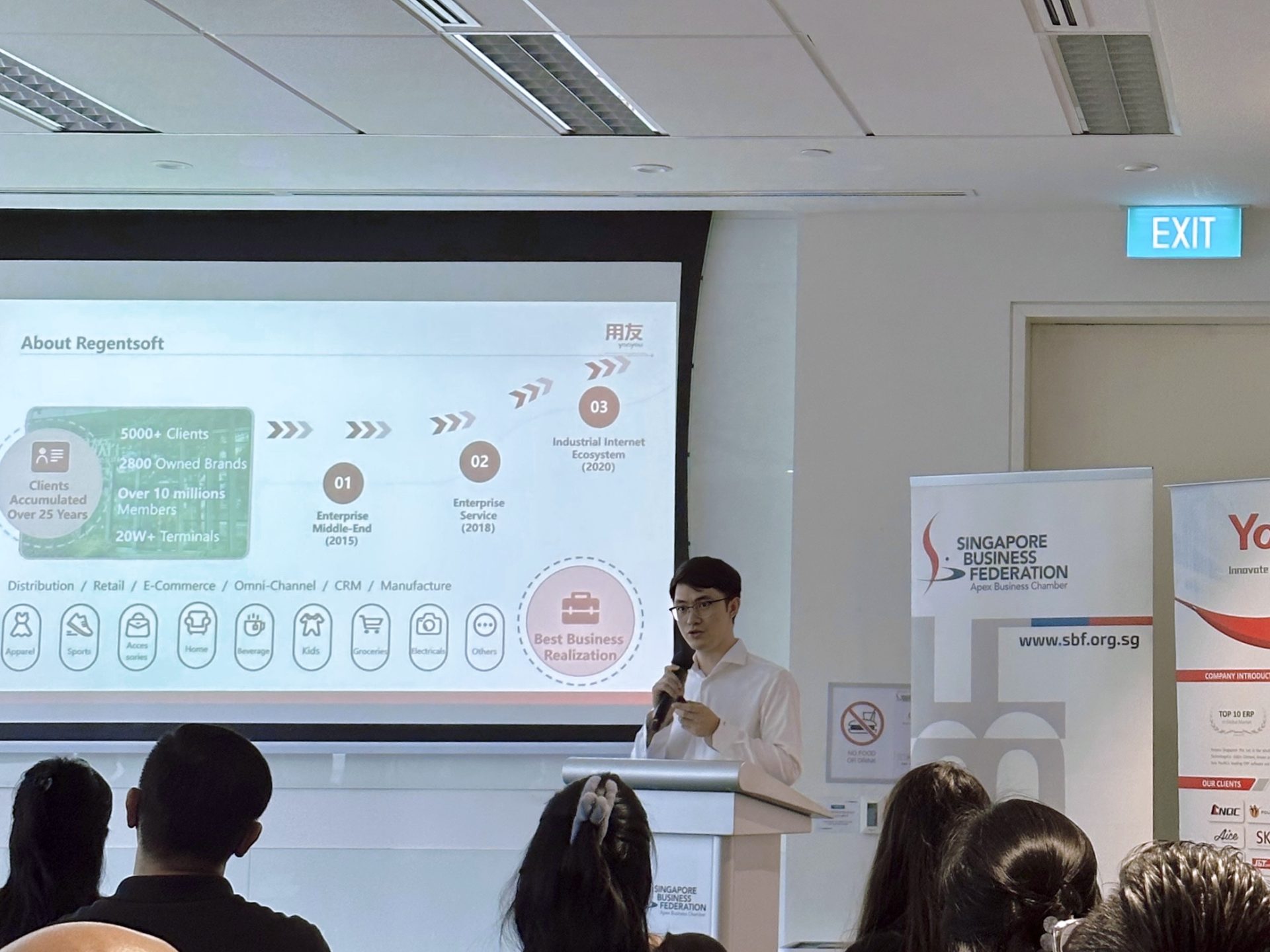 Hugo Xie, Chief Operating Officer of Regentsoft
Hugo, a representative of Yonyou's partner, Regentsoft, delved deeper into consumer and industrial internet. He also shared insights on the following topics:
Omni-Channel Operation
Hugo shared about the intricacies of omni-channel operation and management. Using the order synchronization capabilities of Yonyou's BIP, businesses are able to connect information from different online e-commerce platforms as well as personal web stores, streamlining communication with warehouse, shipping services, and stores. Order synchronization is a key component of omni-channel operation, as it allows businesses to have a real-time view of inventory levels and orders across all of their channels. This allows businesses to fulfill orders quickly and efficiently, regardless of where the customer placed the order.
RFID Inventory Management
RFID-Efficient Paperless Stocktaking refers to the usage of RFID tags to track inventory levels and automate the stocktaking process, eliminating the need for manual paper-based stocktaking.
The event concluded with curiosity and excitement for what Yonyou's technology can do for their businesses.